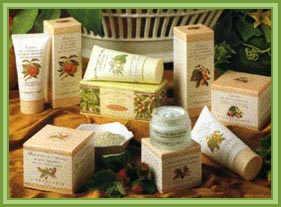 Once upon a time there were spots and blackheads, bags under the eyes, a web of wrinkles and a greyish pallor for common mortals. There were also a milky complexion, pink cheeks and cornflower eyes for the selected few. Then L'Erbolario made the faces of all women bloom! It would be too good to be true if we told you that we had found a magic potion for defeating old enemies once and for all: we can only provide you with the most effective weapons for your daily battles. And you, aware that beauty, health, intelligence and will-power are complementary, can only join in the fight. A fight to victory.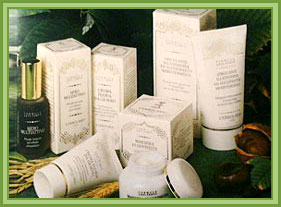 The passing months, seasons and years inevitably leave a mark on our soul and, alas, our face. These marks however can be slight traces or deep furrows. Nothing should be taken for granted! You can always combat skin ageing phenomena, avoid the worst and even repair a few disasters which have already occurred. In order to help you do all that is possible, L'Erbolario has developed a specific line, we might even say revolutionary, in which the benefits of the present and the precious wisdom of tradition are combined synergically.

The beauty and harmony of the body manifest themselves in a thousand ways and depend on many factors (food, sleep, exercise, even happiness...) which we should all seek to gauge with intelligence. Our products alone do not intend to promise you miracles, but they can help you effectively in the attention you pay to your beauty problems. Once again the efficacy depends on regularity: a small amount of time spent every day is never wasted. Also because respect for others starts with respect for ourselves. If you are happy with yourself, others will also feel equally better.
Do not despair if your hair rebels against everyday stress and the thousand minor torments which you subject it to in the name of fashion. Does it show its disapproval with split ends, loss of shine and volume, or is it excessively greasy or dry, always tired and lifeless and dull in colour? It is worth responding with kindness and patience, nourishing it, caressing it and providing the care it deserves. The products which L'Erbolario recommend for you have been created so that your hair can represent for you what healthy and shiny branches are for a fine tree.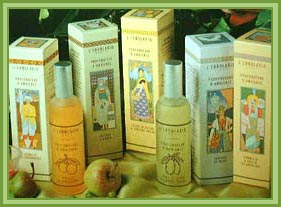 In simple nearby meadows or in exotic far-off oasis, at all times of the day and night and throughout the changing seasons, flowers, fruits, bark, leaves, roots, rasins and mosses exhale their subtle fragrances. You will find all of them in the vials and bottles of L'Erbolario. Individual notes brought out to the full or skilful composite bouquets. In order to dwell into memory or awake the imagination, to wander through dreams or better perceive reality, to calm passions or excite the senses, to reveal the most secret ego or surround yourself in a little mystery!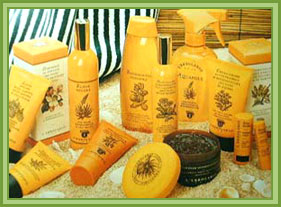 To make you tan better, more rapidly and in total safety these are the goals which L'Erbolario pursues for you. The eight specific products make it last as long as possible, to moisturise and protect the skin, at the same time maintaining it smooth and elastic, and thus prevent its premature ageing and the formation of small wrinkles, to revive it after hours of intense outdoor life. In this way you can take advantage of all the good things the sun has to offer, "creating" first of all and then prolonging that wonderful natural protection which is known as a suntan.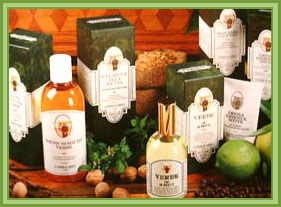 It is extremely important for everybody to start off the day on the right foot: leaving the house with peace of mind, comfort, happy with the world after a good breakfast, music, and also the special care which we dedicate to ourselves in the bathroom. Nowadays the essentaial part of a man's personal care is shaving. So that this operation does not become a bore but instead a moment of narcissistic pleasure, L'Erbolario has introduced extremely fresh and easy-to-use products, beneficial and gentle on the skin. This is not all. In order to prevent those who have intelligently learnt to grant a few extra minutes to their appearance from being forced to loot women's cosmetics, the lines are enriched with actual beauty products, essential and effective, designed for men.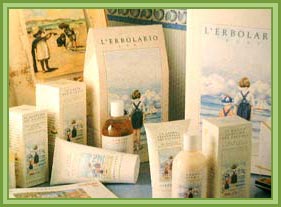 The smallest children need the greatest care. And for children we have always dedicated gentleness above all. That of the most tender affection, but also of gestures, sounds and colours, the furniture in their room and the clothes they wear, that of the first toys and the first books they enjoy. L'Erbolario too, from an ideal garden, has chosen for them the most delicate flowers, the lightest fragrances, the most gentle extracts and oils to formulate five products which respect the special fragility of their brand-new skin. Cleanliness and protection will thus be deliciously pleasant and above all safe.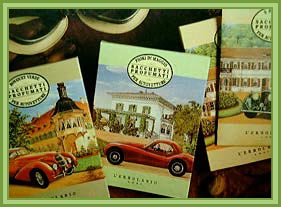 In the L'Erbolario catalogue the fresh, floral and balmy scents for making the air in your home more pleasant had to be included. Your home will now have an open window on a fragrant garden with distant gentle meadows and fragrant woods. In order to make you forget smoke, the smells - not always pleasant - of the kitchen, we have introduced for you a small collection of herbs, flowers and essences so that each time you open the windows onto a lilac garden, a honeysuckle hedge or onto the balmy air of a forest of firs.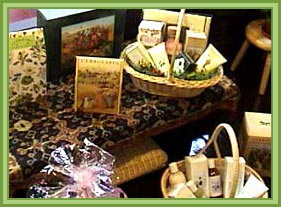 L'Erbolario is proud of the quality of its products and the work to improve them constantly, always finding new applications for the treasures concealed in nature, which is what absorbs its greatest energies. It is also convinced that elegant clothes have a certain importance and therefore has always taken great care with packaging. This has led to highly attractive packed products, in our opinion which frequently become scented gifts. In order to contain them in the best possible way, here are bags, boxes, both small and large, which are appealing even before they are opened.